Who we are
We are a research group at the Department of Immunology, Genetics, and Pathology (IGP) at Uppsala University. Combining data-driven and experimental methods, we are investigating cancers of the nervous system, such as glioblastoma and neuroblastoma. Our goal is to understand the principles that govern these cancers' growth and to discover new treatments. Our research approach is based on a strong integration of patient-specific experimental models, state-of-the-art molecular biology, and large-scale computation. If you enjoy working in a cross-disciplinary team and are open to new ideas and challenging research problems, contact us for further information.
Sven Nelander

Cecilia Krona

Anders Sundström

Gergana Popova

Hitesh Mangukiya

Rebecka Stockgard

Ida Larsson

Emil Rosén

Soumi Kundu

Ludmila Elfineh

Milena Doroszko

Adam Malik

Ben Titmuss

Josephine Heiland

Alper Koc
Data-driven drug discovery for pediatric neural cancers
Our team is exploring how innovative analyses of big data sets can be used to discover new therapeutics. In one of our recent projects, we developed a new algorithm, TargetTranslator, to identify new treatments for neuroblastoma (Almstedt et al, Nature Communications 2020). Our current work explores how data-driven methods can be used to target a broader range of pediatric cancer, including medulloblastoma and DIPG. Our team has invented several other tools for data-driven cancer research, such as CancerLandscapes, EPoC, and CoPIA.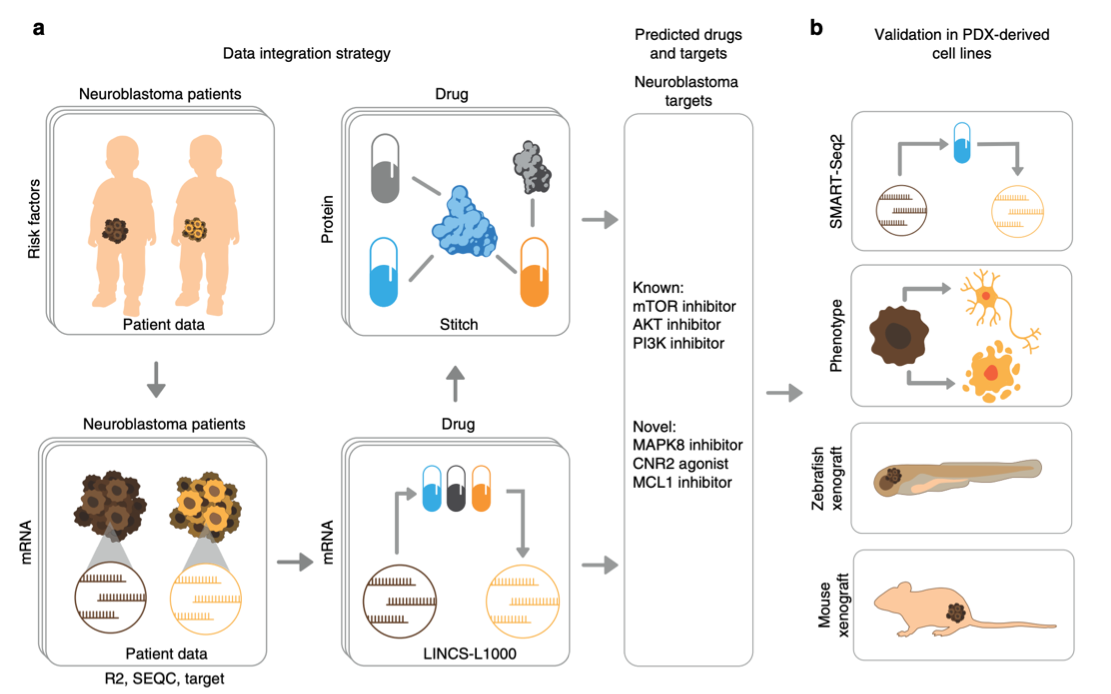 Decoding adult brain tumor invasion and drug response
Our team is pioneering the use of patient-derived cell biobanks as a tool to uncover growth and drug response in the brain tumor glioblastoma (Cell Reports 2020, NeuroOncology 2018, Science Translational Medicine 2015, EBioMedicine 2015,). In recent work, we used our in-house Uppsala-based biobank HGCC to report on pharmacological subtypes of GBM. We are currently using the HGCC models to uncover differences in brain tumor invasion, using several different approaches. A key goal is to uncover the genetic programs that mediate invasion along different anatomical routes, including single-cell /spatial methods, CRISPR, and computational modeling. The key directions are:
Uncovering regulators of route-specific brain tumor invasion.
The emergence of macroscopic brain tumor phenotypes from microscopic cell behavior.
Route-specific routes of drug delivery.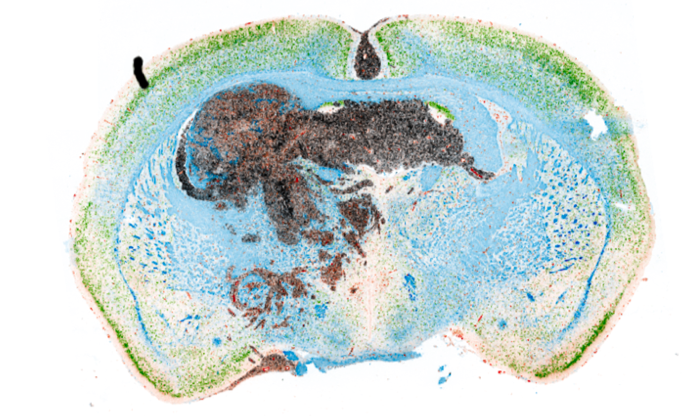 Controlling cell states
Our team is investigating how tumor heterogeneity and drug response depends on time-dependent changes in individual tumor cells. In a recent study (Molecular Systems Biology, 2021), we have proposed a new strategy to construct models of cellular hierarchies from barcoded single cell experiments. The models, which we call State Transition and Growth models, are fitted from experimental data, obtained using barcoded single-cell sequencing and optical reporters. STAG models may have several potential uses in tumor biology and drug development.
Selected Publications
Larsson I, Dalmo E, Elgendy R, Niklasson M, Doroszko M, Segerman A, Jörnsten R, Westermark B, Nelander S. Modeling glioblastoma heterogeneity as a dynamic network of cell states. Mol Syst Biol. 2021 Sep;17(9):e10105.
Marques C, Unterkircher T, Kroon P, Oldrini B, Izzo A, Dramaretska Y, Ferrarese R, Kling E, Schnell O, Nelander S, Wagner EF, Bakiri L, Gargiulo G, Carro MS, Squatrito M. NF1 regulates mesenchymal glioblastoma plasticity and aggressiveness through the AP-1 transcription factor FOSL1. Elife. 2021 Aug 17;10:e64846.
Johansson P, Krona C, Kundu S, Doroszko M, Baskaran S, Schmidt L, Vinel C, Almstedt E, Elgendy R, Elfineh L, Gallant C, Lundsten S, Ferrer Gago FJ, Hakkarainen A, Sipilä P, Häggblad M, Martens U, Lundgren B, Frigault MM, Lane DP, Swartling FJ, Uhrbom L, Nestor M, Marino S, Nelander S. A Patient-Derived Cell Atlas Informs Precision Targeting of Glioblastoma. Cell Rep. 2020 Jul 14;32(2):107897.
Almstedt E, Elgendy R, Hekmati N, Rosén E, Wärn C, Olsen TK, Dyberg C, Doroszko M, Larsson I, Sundström A, Arsenian Henriksson M, Påhlman S, Bexell D, Vanlandewijck M, Kogner P, Jörnsten R, Krona C, Nelander S. Integrative discovery of treatments for high-risk neuroblastoma. Nat Commun. 2020 Jan 3;11(1):71.
Mega A, Hartmark Nilsen M, Leiss LW, Tobin NP, Miletic H, Sleire L, Strell C, Nelander S, Krona C, Hägerstrand D, Enger PØ, Nistér M, Östman A. Astrocytes enhance glioblastoma growth. Glia. 2020 Feb;68(2):316-327. doi: 10.1002/glia.23718. Epub 2019 Sep 11. PMID: 31509308.
Nelander S. Increasing the accuracy of glioblastoma subtypes: Factoring in the tumor's cell of origin. Mol Cell Oncol. 2018 Nov 27;6(1):1302907.
Weishaupt H, Johansson P, Sundström A, Lubovac-Pilav Z, Olsson B, Nelander S, Swartling FJ. Batch-normalization of cerebellar and medulloblastoma gene expression datasets utilizing empirically defined negative control genes. Bioinformatics. 2019 Sep 15;35(18):3357-3364.
Xie Y, Sundström A, Maturi NP, Tan EJ, Marinescu VD, Jarvius M, Tirfing M, Jin C, Chen L, Essand M, Swartling FJ, Nelander S, Jiang Y, Uhrbom L. LGR5 promotes tumorigenicity and invasion of glioblastoma stem-like cells and is a potential therapeutic target for a subset of glioblastoma patients. J Pathol. 2019 Feb;247(2):228-240. doi: 10.1002/path.5186. Epub 2019 Jan 10. PMID: 30357839.
Baskaran S, Mayrhofer M, Kultima HG, Bergström T, Elfineh L, Cavelier L, Isaksson A, Nelander S. Primary glioblastoma cells for precision medicine: a quantitative portrait of genomic (in)stability during the first 30 passages. Neuro Oncol. 2018 Jul 5;20(8):1080-1091. doi: 10.1093/neuonc/noy024. PMID: 29462414; PMCID: PMC6280139.
Jiang Y, Marinescu VD, Xie Y, Jarvius M, Maturi NP, Haglund C, Olofsson S, Lindberg N, Olofsson T, Leijonmarck C, Hesselager G, Alafuzoff I, Fryknäs M, Larsson R, Nelander S, Uhrbom L. Glioblastoma Cell Malignancy and Drug Sensitivity Are Affected by the Cell of Origin. Cell Rep. 2017 Jan 24;18(4):977-990. doi: 10.1016/j.celrep.2017.01.003.
Niklasson M, Maddalo G, Sramkova Z, Mutlu E, Wee S, Sekyrova P, Schmidt L, Fritz N, Dehnisch I, Kyriatzis G, Krafcikova M, Carson BB, Feenstra JM, Marinescu VD, Segerman A, Haraldsson M, Gustavsson AL, Hammarström LG, Jenmalm Jensen A, Uhrbom L, Altelaar AF, Linnarsson S, Uhlén P, Trantirek L, Vincent CT, Nelander S, Enger PØ, Andäng M. Membrane-Depolarizing Channel Blockers Induce Selective Glioma Cell Death by Impairing Nutrient Transport and Unfolded Protein/Amino Acid Responses. Cancer Res. 2017 Apr 1;77(7):1741-1752.
Kling T, Ferrarese R, Ó hAilín D, Johansson P, Heiland DH, Dai F, Vasilikos I, Weyerbrock A, Jörnsten R, Carro MS, Nelander S. Integrative Modeling Reveals Annexin A2-mediated Epigenetic Control of Mesenchymal Glioblastoma. EBioMedicine. 2016 Oct;12:72-85.
Ramachandran M, Yu D, Dyczynski M, Baskaran S, Zhang L, Lulla A, Lulla V, Saul S, Nelander S, Dimberg A, Merits A, Leja-Jarblad J, Essand M. Safe and Effective Treatment of Experimental Neuroblastoma and Glioblastoma Using Systemically Delivered Triple MicroRNA-Detargeted Oncolytic Semliki Forest Virus. Clin Cancer Res. 2017 Mar 15;23(6):1519-1530.
Allen M, Bjerke M, Edlund H, Nelander S, Westermark B. Origin of the U87MG glioma cell line: Good news and bad news. Sci Transl Med. 2016 Aug 31;8(354):354re3.
Darmanis S, Gallant CJ, Marinescu VD, Niklasson M, Segerman A, Flamourakis G, Fredriksson S, Assarsson E, Lundberg M, Nelander S, Westermark B, Landegren U. Simultaneous Multiplexed Measurement of RNA and Proteins in Single Cells. Cell Rep. 2016 Jan 12;14(2):380-9.
Xie Y, Bergström T, Jiang Y, Johansson P, Marinescu VD, Lindberg N, Segerman A, Wicher G, Niklasson M, Baskaran S, Sreedharan S, Everlien I, Kastemar M, Hermansson A, Elfineh L, Libard S, Holland EC, Hesselager G, Alafuzoff I, Westermark B, Nelander S, Forsberg-Nilsson K, Uhrbom L. The Human Glioblastoma Cell Culture Resource: Validated Cell Models Representing All Molecular Subtypes. EBioMedicine. 2015 Aug 15;2(10):1351-63.
Kling T, Johansson P, Sanchez J, Marinescu VD, Jörnsten R, Nelander S. Efficient exploration of pan-cancer networks by generalized covariance selection and interactive web content. Nucleic Acids Res. 2015 Sep 3;43(15):e98.
Schmidt L, Kling T, Monsefi N, Olsson M, Hansson C, Baskaran S, Lundgren B, Martens U, Häggblad M, Westermark B, Forsberg Nilsson K, Uhrbom L, Karlsson- Lindahl L, Gerlee P, Nelander S. Comparative drug pair screening across multiple glioblastoma cell lines reveals novel drug-drug interactions. Neuro Oncol. 2013 Nov;15(11):1469-78.
Gerlee P, Nelander S. The impact of phenotypic switching on glioblastoma growth and invasion. PLoS Comput Biol. 2012;8(6):e1002556.
Jörnsten R, Abenius T, Kling T, Schmidt L, Johansson E, Nordling TE, Nordlander B, Sander C, Gennemark P, Funa K, Nilsson B, Lindahl L, Nelander S. Network modeling of the transcriptional effects of copy number aberrations in glioblastoma. Mol Syst Biol. 2011 Apr 26;7:486.